Alex Tucker
---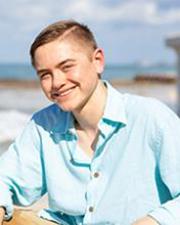 Biography
—
What should prospective students ask you about? I.e. what types of things are you involved in on campus/in engineering? (housing? research? Greek life? marching band? etc.)
Feel free to ask me aything and everything. I'm a Self fellow and an undergraduate researcher in a pharmaceutical chemistry lab, so those are a couple of areas that I always enjoy talking about. Other than that I'm happy to answer any general questions about campus and the surrounding town of Lawrence! (I probably can't recommend restaurants well though).
What do you love most about being an engineering student at KU?
I have fun with just about everything, but I will say research, clubs, and networking are some of the most fun things I get to do. There really is something for everyone here and I've always really enjoyed that.