Amelia Richardson
---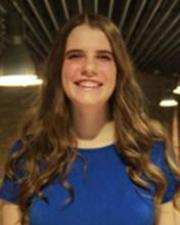 Biography
—
What should prospective students ask you about? I.e. what types of things are you involved in on campus/in engineering? (housing? research? Greek life? marching band? etc.)
Hello! I'm a senior studying Civil Engineering with a focus in Environmental Engineering. I am a member and have held executive positions in the professional co-ed engineering fraternity Theta Tau, I am a KU Student Ambassador (have lots of KU knowledge), I am an Honors Student, and I am a member of Tau Beta Pi engineering society. I have had internship experience with Sandia National Laboratories and Black & Veatch. I have also studied abroad in Ireland, so I can definitely talk to students about studying abroad w/ engineering. I have lived both on campus and off campus as well! Also, I am from NM, so I can speak to out-of-states students who have questions too.
What do you love most about being an engineering student at KU?
My teachers have been outstanding, being able to take specific courses in my enigneering interests, LOTS of resources for all questions needing answered, my fellow engineering students who have become my closest friends.