Annie Edgeller
---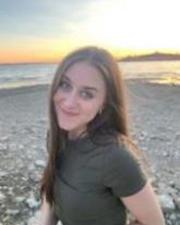 Biography
—
I am involved in: 
Greek life - Alpha Delta Pi
Ask me about...
Greek Life, dorm living (Self Hall), study groups; ask me about balancing classes and social life!
What do you love most about being an engineering student at KU?
With the engineering community having smaller classes with people of the same interests, I have felt welcomed since the first day and have met some of my best friends ever! Many of my engineering friends share almost all of the same classes, which makes studying in groups and doing homework collaboratively so easy and so much fun. 
Why did you choose KU? 
I came to KU because not only did I love the campus but I had heard great things about KU's School of Engineering. After talking to some ambassadors about their experiences I was sure that KU was the place to go, and I couldn't be happier!