Elvis Umana
---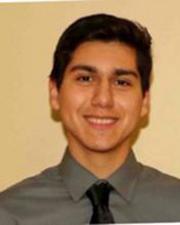 Biography
—
What should prospective students ask you about? I.e. what types of things are you involved in on campus/in engineering? (housing? research? Greek life? marching band? etc.)
On campus research (surface chemistry and electrochemistry), Honors college, Theta Tau professional engineering fraternity (community service chair), Tau Beta Pi engineering honors Society, Honors Community Advocates, Shot@Life global health advocacy, SELF tutoring (on campus job), Online REU experience, Alternative break trips (volunteering in Arkansas and Utah).
What do you love most about being an engineering student at KU?
What I live most about being a KU engineering student is having the resources and friendly faces I need to succeed in the classroom while also staying involved in the organizations and activities I love.