Ethan Bauguess
---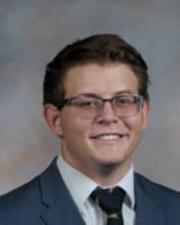 Biography
—
What should prospective students ask you about? I.e. what types of things are you involved in on campus/in engineering? (housing? research? Greek life? marching band? etc.)
I'm a fourth year aerospace engineering student, President of jayhawk aero design, Vice President of ATO, in the Air Force ROTC, had an internship with the spaceship company over the summer.
What do you love most about being an engineering student at KU?
The friends I've made here.