Griffin Stone
---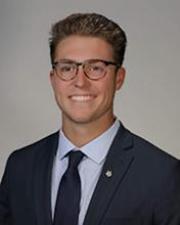 Biography
—
What should prospective students ask you about? I.e. what types of things are you involved in on campus/in engineering? (housing? research? Greek life? marching band? etc.)
I was involved in Engineering Student Council for 3 years, working my way up to VP of Recruitment this past year. I am also a member of Sigma Nu Fraternity, serving as a recruitment chair for 1 year. I have also had 2 engineering internships in KC with Garmin as a Software Engineer, as well as Honeywell FM&T as an Electrical Engineer. I am also an avid participant of various intramural sports around campus such as sand volleyball, flag football, and outdoor soccer. And a student leader in a student ministry called Salt Company.
What do you love most about being an engineering student at KU?
The thing I love the most about being a KU engineer is the melting pot of personalities and backgrounds of your class mates. KU School of Engineering has introduced me to so many people I would have never crossed paths with, introducing me to new ideas and making the life of being an engineering student a lot more enjoyable.