Megan Wittman
---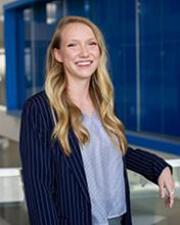 Biography
—
What should prospective students ask you about? I.e. what types of things are you involved in on campus/in engineering? (housing? research? Greek life? marching band? etc.)
"- Greek Life (out of state perspective of the process, involved in leadership team)
- Office of First Year Experience (Orientation Assistant and Peer Mentor so I know a lot about first year resources, etc. for overall KU population)
- Honors Program (Lived in Templin, so naturally was involved freshman year)
- Tutor for the Athletic Department
- Student Senate (participated in variety of committees and elected to University Senate)
- Research (spent summer at KU doing research for Dr. Belinda Sturm and then continue that research throughout the year - Now participating in REU at Stanford for water research)
- AWE, Association for Water and the Environment
I can provide more specifics if needed, just let me know!"
What do you love most about being an engineering student at KU?
"The reason I chose KU in the first place was it was the first place that I felt like I could be more than just your stereotypical engineering student who was nose in the books, all day long. In high school, I was the person who had their toe in many different ponds and so that was something I was looking for in my college. Now don't get me wrong – I have spent my fair share of late nights or early mornings working my ass off on that one homework problem you just cant seem to figure out – but especially in my first two years at the school I felt excited about being involved in something outside of engineering. I think being able to do this has given me a different perspective on how I see my career after college. So overall, I love that I had the ability to do that as an engineering student.
On a more day to day scale, I love that as someone who knew no one at the school of engineering walks in the hallway and can smile and wave at people from classes. I was so scared to get involved my freshman and sophomore year because it felt like everyone was from Kansas and already knew each other. But I think the nature of the round tables, and people in the school of engineering taking a lot of first and second year classes together made this community. I could crack a joke with that girl who was in my physics and math classes with me or ask the person behind me in my chem class what the homework for another class was. These small interactions became more frequent then I would have ever guessed and started to make this big school feel small."