Shallom Ofodi
---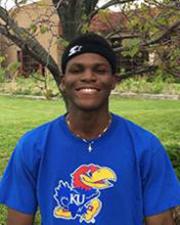 Biography
—
What should prospective students ask you about? I.e. what types of things are you involved in on campus/in engineering? (housing? research? Greek life? marching band? etc.)
Hey, feel free to ask me about anything KU related and how to navigate resources on campus as well as how to get involved with clubs, organizations and extra curricular activities; Also, you can ask me anything about the University's Honors program, how it is living on Daisy Hill, how it is to be an international student at KU studying engineering (Aerospace); I am also a student tutor at KU and I am involved in some clubs and organizations such as iHAWKe, African Carribean Student Association, KU National Society of Black ENgineers (KU NSBE), American Institute of Aeronautics and Astronautics, Office of First Year Experience (Orientation Assistant), Student Senate amongst many more!
What do you love most about being an engineering student at KU?
First of all, I love my professors. All my professors have been really encouraging and supporting. Secondly, I love the art of engineering because it is so interesting and intriguing. Also, the classroom and workshop facilities are great to work with. Finally, I generally love the Jayhawk experience as an Engineering student at KU!