2023 Rock Chalk Welcome (Back)!
---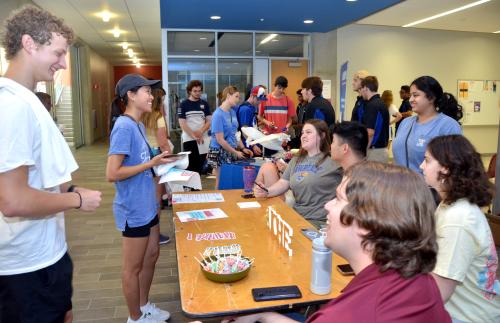 First-year Jayhawks arriving at KU and students returning for another exciting year — welcome (back) to campus! The university and the School of Engineering have a a series of opportunities scheduled to welcome students and help forge connections for the 2023-2024 academic year.
Here's a quick rundown:
Aug. 18-26
Hawk Week is KU's campuswide celebration that kicks off the school year. Over several days of live events and festivities, block parties and community meetings, we proudly — and loudly — welcome new and returning Jayhawks.
Engineers Rock the Block & Academic Welcome
2-4 p.m. Sunday, Aug. 20, LEEP2 & Engineering Courtyard
Engineers Rock the Block is a welcome event, primarily aimed at first-year students, though all engineering students are welcome to attend. Student organizations will be hosting lawn games and School of Engineering staff will also be available to help with any last-minute schedule changes.
IHAWKe Diversity Programs Welcome
5 p.m. Wednesday, Aug. 30, LEEP2 McClendon Atrium
IHAWKe Engineering Diversity & Women's Programs have a welcome back social with food, prizes and opportunities to connect IHAWKe organizations. IHAWKe Diversity and Women's Programs is an academic support program that seeks to recruit, retain and graduate innovative, team-oriented engineers that change the world, connect with others and conquer their classes. IHAWKe student groups are a great way to connect, learn and get involved with the School of Engineering and meet students with similar interests. Affiliated groups include: National Society of Black Engineers (NSBE), Society of Asian Scientists and Engineers (SASE), Society of Hispanic Professional Engineers (SHPE), Society of Women Engineers (SWE) and Women in Computing, KU (KUWIC).
Evening with Industry
6 p.m. Tuesday, Sept. 19, Burge Union Forum CD
Evening with Industry is an annual dinner hosted by the Society of Women Engineers (SWE) supported by Indigenous, Hispanic, African-American, Women, KU Engineering (IHAWKe), and the Engineering Career Center (ECC) the night before the Fall Engineering & Computing Career Fair. It is an opportunity for students and employers to meet, network and share information prior to the career fair.
In-Person Fall Engineering & Computing Career Fair
11 a.m.-4 p.m. Wednesday, Sept. 20, Kansas Union
Employers and KU students can make career connections and explore job and internship possibilities. Students should dress professionally and research employers of interest.
Virtual Engineering & Computing Career Fair
11 a.m.- 4 p.m. Wednesday, Sept. 27
Career Fair Plus app