Aerospace Engineering Graduates Win Top Awards at International Competition
---
For the second consecutive year, the University of Kansas aerospace engineering program has dominated the oldest and most prestigious international aircraft design competition. KU students claimed the top three prizes this year after winning first and second in 2009.
Lauren Fitzpatrick, of Stilwell, landed first place in the 2010 individual aircraft design competition held by the American Institute of Aeronautics and Astronautics. Sarah Kulhanek, of Deerfield, Ill., and Chris Vaughn, of Andale, earned second and third places, respectively. All three earned bachelor's degrees from KU in spring 2010.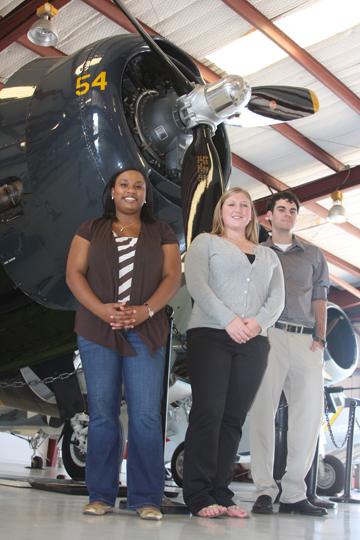 The contest drew competitors from more than 50 universities in the United States, United Kingdom, Italy, Turkey, the Netherlands and Australia.
In 2009, Emily Arnold and Leslie Smith won high score and second highest score, respectively, in AIAA's Undergraduate Individual Aircraft Design Competition.
Fitzpatrick earned first place by using an innovative design with a classic twist to improve business jet travel. The contest challenged students to design a business aircraft that had a large, comfortable cabin and was capable of utilizing relatively short runways. Fitzpatrick incorporated a fuel-storage system known as slipper tanks — commonly used decades ago, often installed as an afterthought — and adapted her design to maximize space from the outset and still get the most out of the aircraft.
"The most unique aspect of my design is the slipper tanks in the center of the wings that hold the excess fuel that my wings cannot carry," Fitzpatrick said. "Most business jets store their excess fuel in a belly under the wings or in the tail cone of the airplane. This design is one of very few to ever have slipper tanks, and because I chose to have the slipper tanks on the wing, the tanks are also used to store the retracted main landing gear, which is not a usual storage option."
The student winners recently attended the AIAA Aviation, Technology, Integration and Operations conference this month in Fort Worth, Texas.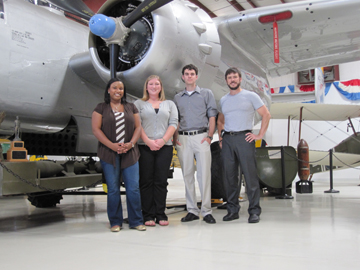 Fitzpatrick wins a $2,500 award for her entry, "Air Fitz, Transonic Business." Kulhanek receives $1,500 for her project, "The Wrigley Business Jet Design," and Vaughn receiveds $1,000 for his entry, "Modern Pioneer Midsize Business Jet."
"The achievements of these three students are to be commended, as is the sustained excellence of the KU aerospace engineering department. It continues to garner international recognition," Chancellor Bernadette Gray-Little said.
Ron Barrett-Gonzalez, associate professor of aerospace engineering, coached all three students in the class in which each crafted and perfected their design concepts. He said Kulhanek and Vaughn's designs were excellent technical solutions and beautiful aircraft concepts, but Fitzpatrick's ingenuity gave her a distinct advantage in the competition.
"From the onset of the fall semester, Lauren worked hard on this aircraft design, and as engineers will do, she painted herself into a corner," Barrett-Gonzalez said. "The only way she could get out was to use these unusual fuel tanks. That turned out to be a brilliant move. She took a bad situation that was forced upon her by certain design decisions and turned it into something really positive."
The high marks for these three KU students continue a tradition of excellence. Jayhawks have a long track record of success in international AIAA aircraft design competitions. KU has earned more first and second place awards than any other academic institution in the world in the 42-year history of the competition.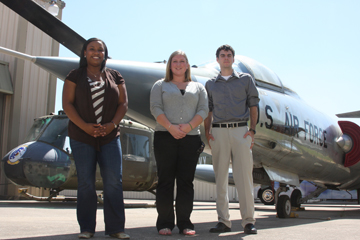 "We are extremely proud of this recognition for Lauren, Sarah and Chris," said Dean of Engineering Stuart Bell. "Their award-winning designs exemplify the innovation, creativity and dedication that are the hallmarks of aerospace engineering at KU. It also shows the School of Engineering's continued commitment to being a leader in preparing students to join the workforce in the aircraft industry, a crucial part of the Kansas economy."
Success in this environment is usually a sign of a bright future, said Barrett-Gonzalez.
"These kinds of achievements are a springboard for far greater things in people's careers," he said. "I look for all three of them to become industry leaders of no small note."