Dean's First Year Doctoral Fellowship
In 2019 Dean Agah is launched the School of Engineering Dean's First Year Doctoral Fellowship to support one fellowship award for each of the following: AE, BIOE, CEAE, CPE, EECS, and ME. The fellowship provides financial support for new doctoral students to cover up to 9 credit hours of tuition and fees, health insurance costs, and a stipend for nine months (fall and spring semesters). This is a one-year, nonrenewable fellowship. Fellows are appointed as GRA's. The fellowship requires completion of one national/international doctoral fellowship application and participation in professional development organized by Research & Graduate Affairs. The fellowship will also provide funding to attend one professional conference. This fellowship is open to domestic and international students, and each unit is limited to one nomination.
2019-2020 Fellows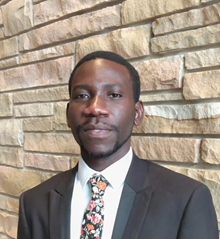 Oladipo Bolade
Major: Civil Engineering
Faculty Mentor: Dr. Amy Hansen
Oladipo is an international student from Nigeria, where he obtained his Undergraduate and Master's degrees in Agricultural Engineering.
Currently, Oladipo is in the second year of his PhD program in the Civil, Environmental and Architectural Engineering department at the University of Kansas (KU). His main research focus is on the improvement of surface water quality by investigating the interaction between hydrological and biogeochemical processes. The goal of his research is to better understand how these processes influence the transport of nitrate (a nitrogen fertilizer compound) from the intensively farmed landscapes of the Mississippi River Basin of the US into streams. Ultimately, the knowledge gained will assist in the design of appropriate management responses to reduce high algae blooms (HABs) impacts and eliminate health issues linked to drinking nitrate-contaminated water.
Oladipo's hobbies include playing and watching soccer, listening to music, and watching scientific and history documentaries.
On receiving the Dean's First Year Doctoral Fellowship:
I am highly grateful for the Dean's Fellowship award during the first year of my program. It has always been my dream to obtain my doctoral degree from a top-ranked research-based university in the USA, funded by a prestigious award like the Dean's Fellowship. The award afforded me the opportunity to interact with my fellow recipients and learn about their various research. Furthermore, interacting with the Dean exposed me to the diverse ongoing research within the KU School of Engineering (SoE) as well as the laudable achievements of KU alumni. These interactions improved my self-belief and motivation to excel, and exposed me to the numerous career opportunities available to graduates of a reputable university like the University of Kansas.

In essence, this award has helped me to build my professional network and afforded me the opportunity to discuss my research and learn more about the exciting research projects within the SoE. In addition, the less time commitment of the fellowship made it possible for me to advance my research and prepare adequately for coursework during my first year while I was settling in.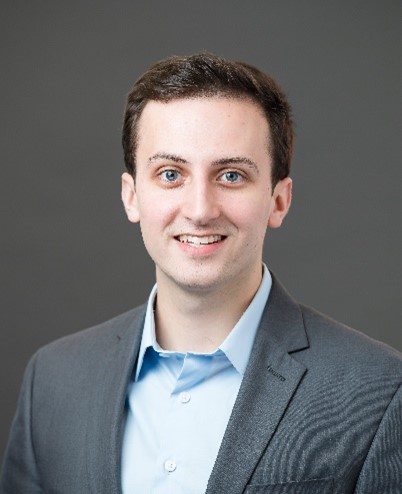 Christian Daniel
Major: Electrical Engineering
Faculty Mentor: Dr. Erik Perrins and Dr. Taejoon Kim
Christian Daniel attended Central College in Pella, Iowa where he majored in Physics with a minor in Math. At KU, he is studying Electrical Engineering with a focus in wireless communications. His research advisors are Dr. Erik Perrins and Dr. Taejoon Kim. Christian's research background is dynamic subarray architecture optimization in wideband mmWave MIMO systems. He is currently applying this background to the challenge of implementing intelligent reflecting surfaces (IRS) to efficiently control the communication channel and maximize data rates. Right now, Christian is investigating the utilization of reinforced learning (RL) to create an energy efficient element grouping IRS architecture in wideband channels where the channel state information is not known at the IRS.
On receiving the Dean's First Year Doctoral Fellowship:
As a senior undergraduate student, I had my pick from all the universities that I applied to. However, at every other university besides KU, my first year of graduate school would have been doing work other than research. Especially since I was transitioning into a new field of study, I decided that it was of utmost importance to have enough time to focus on my research right away. Ultimately, the Dean's First Year Fellowship brought me to KU, made my transition as smooth as possible, and allowed me to go right into my research, which is exactly what I came here to do.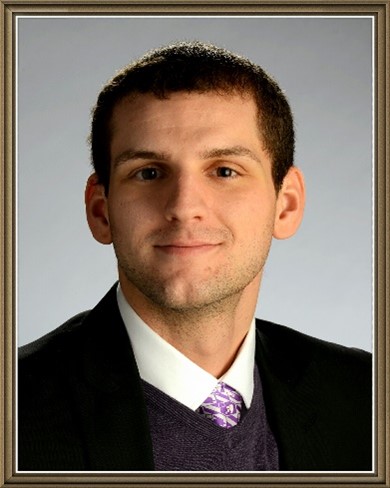 Jacob Hodge
Major: Bioengineering (MD/PhD)
Faculty Mentor: Dr. Jennifer Robinson and Dr. AJ Mellott
Jacob was born and raised in Shawnee, KS. After high-school he attended Kansas State University in Manhattan, KS where he obtained bachelor's degrees in Biology and Biochemistry, a minor in Chemistry, and a Master's in Biochemistry. Ever since he started shadowing local physicians and volunteering as a medical assistant at the community clinic, Jacob has known that he wanted to go to medical school and spend his life trying to help others. As he gained more experience in the medical field, he would find myself wondering how we could better help patients and improve their current standard of care. Jacob has always been curious with figuring out "how" and "why" things work the way that they do. It was this inherent instinct that led to him down the path of pursuing biomedical research. Jacob started research in immunomodulatory research as an undergraduate which then evolved into cancer therapeutic research as he transitioned into his Master's.
After graduating from Kansas State University, Jacob spent the next three years working with Dr. Clay Quint, a vascular surgeon at the University of Kansas Medical Center. Dr. Quint's laboratory worked with Bioengineering and Tissue Engineering techniques to develop translational therapies for patients with vascular diseases. After his first year in the lab he was accepted into the M.D.-Ph.D. Physician Scientist Training Program at KUMC and was able to continue his research with Dr. Quint while attending medical school. Jacob's research consisted of developing a method to tissue engineer vascular grafts by utilizing biopolymers and a technique called electrospinning. They were eventually able to successfully characterize and optimize a tissue engineered vascular graft that was successfully implanted in an animals study. The hope is one day these vascular grafts could be used to implant into patients.
After completing the first two years of the medical curriculum and passing his first medical licensing exam, Jacob transitioned into the graduate phase where he has begun working on his dissertation research in order to complete his Ph.D. Jacob is pursuing his Ph.D. in the Department of Bioengineering, where he is co-advised by Drs. AJ Mellott and Jenny Robinson. His research interest revolves around utilizing tissue engineering techniques together with stem cell technologies to develop regenerative therapies in the field of soft tissue and wound care.
In his free time, Jacob enjoys cooking, sports, woodworking, and other outdoor activities. Jacob and his wife enjoy their time taking trips and going to sporting events with friends and family.
On receiving the Dean's First Year Doctoral Fellowship:
I truly appreciate the opportunity to receive the Dean's Doctoral Fellowship. It has allotted me a unique opportunity to focus more on my research and training and less on whether I will have funding in the coming months and if I need to spend time searching for other funding sources. By having stable funding and more time for research, I have been able to advance my research which has led to my ability to publish manuscripts and apply for conferences. The dissemination of knowledge is the backbone of scientific discovery and not only is important for me as an individual completing my Ph.D., but it helps the biomedical field as a whole. Lastly, the Dean's Doctoral Fellowship has served as a stepping-stone for me to apply for future fellowships and grants. Sometimes, getting the first fellowship is the hardest, but from there you can build a strong foundation, which Dean's Doctoral Fellowship has help do for me, and for that I am forever thankful.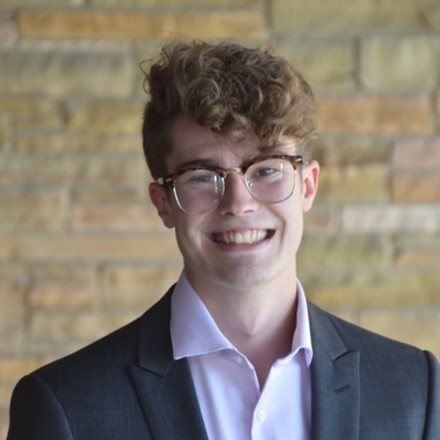 Aaron McKinnis
Major: Aerospace Engineering
Faculty Mentor: Dr. Shawn Keshmiri
Aaron McKinnis is a 2nd year PhD student associated with the University of Kansas Aerospace Engineering Department and was a member of the inaugural class of the Dean's First Year Fellowship. He received his Bachelor's Degree from KU in the spring of 2019. Since beginning his Ph. D, he has become the flight test lead for the Garrision Flight Research Laboratory. Aaron has been involved in a number of projects funded by NASA, Heising-Simmons, Federal Aviation Administration, and the US Air Force, culminating to over 100 successful flights including multi-agent swarm, collision avoidance, manned-unmanned operation and vertical takeoff and landing. His main area of research is adding a cognitive level to the guidance and control of unmanned systems flying in highly dense population areas, also known as Urban Air Mobility. Aaron is currently working on the design, analysis and manufacturing of the next generation of model and modal sensitive, vertical takeoff and landing aircraft for use by the US Air Force as well as the fitting and instrumentation of an ice penetrating radar on these systems. Additionally, he is concurrently working on the development and flight validation of robust collision avoidance algorithms for use in spatially constrained environments.
On receiving the Dean's First Year Doctoral Fellowship:
The Dean's First Year Fellowship impacted me personally in two large ways. The first and most obvious is that of the financial support. Due to this support, I was able to focus on my first-year coursework and lay a foundation of knowledge that has allowed me to grow into the researcher I am today and lead a team of over a dozen researchers in such a short span. In this time, I was also able to maintain a 4.0 GPA and pass my Doctoral Qualification Exams ahead of schedule. Additionally, with this support, I was able to attend internationally recognized conferences and present my work, further representing myself and the University of Kansas. Secondly, this fellowship brought me into close contact with an interdisciplinary cohort of individuals which otherwise would have been unlikely to meet. Hearing about their research from spanning from advanced prosthetics to watershed characteristics, expanded my horizons. Being near such impressive people also pushed me to conduct more exciting research and forced me to learn how to explain my work to a broader, unknowledgeable group, unlike anything I had presented previously to my peers. Overall, this fellowship was a very positive experience for me and I would like to thank all the sponsors for allowing me to mature into the accomplished student and researcher I am today.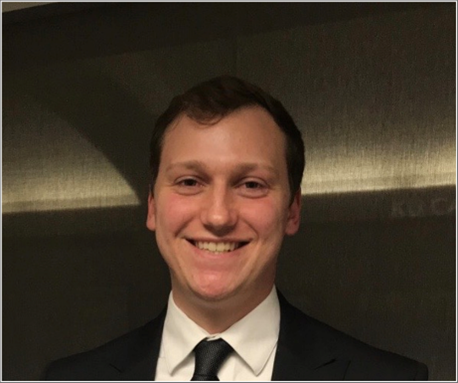 Chadwick Sevart
Major: Mechanical Engineering
Faculty Mentor: Theodore Bergman
Chadwick is originally from Wichita, KS and received his bachelor's degree in mechanical engineering from the University of Kansas. During his junior year, he began working as an undergraduate research assistant with Dr. Theodore Bergman. Chadwick conducted experimental data acquisition on a project involving novel heat sinks to be used in air cooling for thermoelectric generation. Through this work he contributed as second author to a published research paper and realized his passion for research. Chadwick continued working with Dr. Bergman on research involving heat sink design and optimization. In his first year in the Ph. D program at KU he developed an iterative design algorithm for heat sinks cooled by natural convection, which led to a second published paper. Dr. Bergman and Chadwick then adapted the algorithm to include the effects of radiation and recently published a third research paper.
On receiving the Dean's First Year Doctoral Fellowship:
The Deans First Year Fellowship has been immensely beneficial to my graduate career. Having a source of funding secured for a year allowed me to focus more on my research and I was able to achieve a lot more than I would have had I not received the fellowship. This progress in my research not only helps for my dissertation but will be a big help in securing future funding. The fellowship also provided personal development opportunities in the monthly meetings which I know will be beneficial to my career outside of graduate school. It was also great to get to know the fellows from other engineering disciplines. Having the opportunity to discuss our research and courses was helpful in the transition between undergraduate and graduate school.
2020-2021 Fellows
John Bradford
Major: Bioengineering
Faculty Mentor: Dr. Jennifer Robinson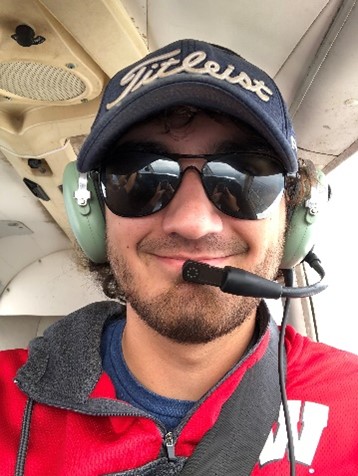 Daniel Owen
Major: Aerospace Engineering
Faculty Mentor: Dr. Brian Kaplinger
Daniel is pursuing a PhD in Aerospace Engineering at the University of Kansas. He received a B.S. (2020) from Florida Institute of Technology in Aerospace Engineering. His research interests are Astrodynamics, Interplanetary Mission Design, Spacecraft GN&C, Human Spaceflight, and Spacecraft Rendezvous Operations. Currently he is conducting research on ballistic Martian Cycler trajectories with his Advisor Dr. Brian Kaplinger. He is a member of the KUbeSat team where he is working to design and test the ADCS for a cubesat. Outside of school Daniel is an instrument rated private pilot who competed in national flight competitions with NIFA during his undergrad. He also fly's recreationally and golfs in his free time.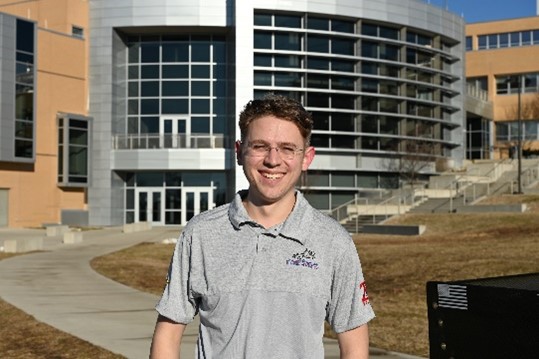 Michael Poskin
Major: Mechanical Engineering
Faculty Mentor: Dr. Karan Surana
Michael Poskin is a Dean's First Year fellow and graduate from the University of Kansas with a bachelor's in mechanical engineering. As an undergraduate, Michael was a member of KU's formula race team, Jayhawk Motorsports, becoming the chassis team lead in 2019. Alongside leading his team members, as chassis lead he was responsible for the design and manufacture of the car's monocoque, as well as its carbon fiber layup schedule. Michael has also had internships with multiple companies. At the drone startup Digital Aeolus, he developed multiple testing rigs and performed data analysis to optimize drones' duct and rotor designs. He has also worked at PRIER Products to help assist and develop assembly line workflow. Michael is currently a graduate student at the University of Kansas studying continuum mechanics and finite element analysis.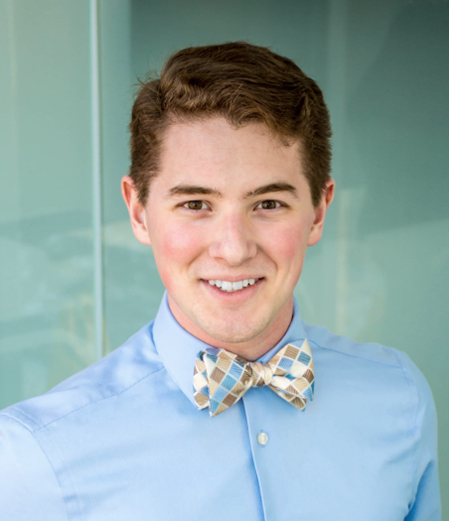 Daniel Rittle
Major: Mechanical Engineering
Faculty Mentor: Dr. Prajna Dhar
Daniel is a M.D./Ph.D. candidate pursuing his Ph.D. in Chemical Engineering in Dr. Prajna Dhar's lab, whose focus is on Molecular Engineering and Interfacial Nanomedicine. Daniel earned his Bachelor of Science in Biomedical Engineering with a minor in Architecture from Washington University in St. Louis, where he was able to work in Dr. Sam Klein's lab in the Metabolic Regulation of Obesity. While pursuing my Bachelor's, he received the opportunity to perform research in Dr. Randy Nudo's Lab on Cortical Plasticity, where the research he pursued pertained to accelerating and improving recovery from traumatic brain injuries and strokes by means of a brain-computer-brain interface (BCBI).
For his Ph.D. research, Daniel am studying one of the two implicated hallmarks of Alzheimer Disease: tau protein. Specifically, he is interested in tau protein aggregates and their interaction with the phospholipid membrane at the interface between the membrane and the cytosol of neuronal cells in the brain as a potential modulator of cell death. This investigation is intended to help elucidate the potential of changes induced by tau protein aggregates to the cell membrane as being a mechanism of neurotoxicity with the long-term goal of determining therapeutics that may mitigate or reverse the effects of Alzheimer Disease and other associated neurodegenerative diseases and dementias in people.
In his free time, Daniel enjoys volunteering with his local church, folding origami creations, drawing, reading, and exercising with friends.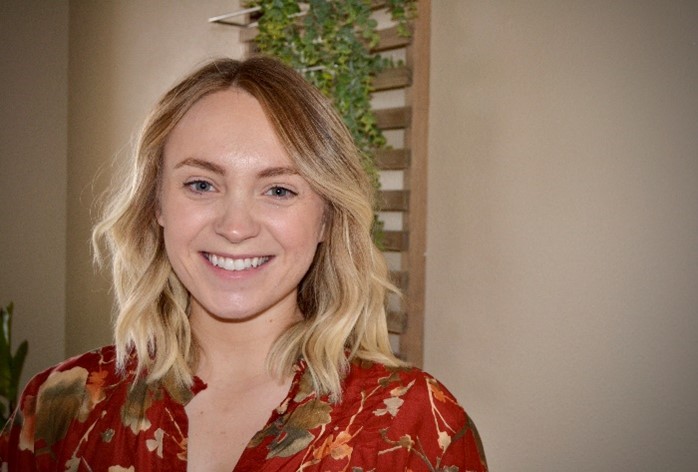 Bre Waterman
Major: Environmental Science
Faculty Mentor: Dr. Amy Hansen
Bre earned a Bachelor of Science in Geology, with a minor in Chemistry, from Oklahoma State University in 2018 and a Master of Science in Geology from Kansas State University in 2020. She is currently pursuing a PhD in Environmental Science in the Department of Civil, Environmental, and Architectural Engineering at the University of Kansas. Bre's research focus is on the intersection of hydrology and biogeochemistry in aquatic systems. Specifically, she is interested in integrating these two fields to find solutions for water quality-related issues.