Digital Signage Submission
---
This is the space to submit events or messages to be displayed on video monitors throughout the School of Engineering. Submissions must be made by 8 a.m. Thursdays to run for the following week.  
Submissions must include a graphic to be displayed. The graphic should include all relevant information about the event including date, time, location of event. Images will be displayed for 15 seconds on a rotating basis. Since each message is only displayed for a brief period of time, simple, streamlined, easy-to-read messaging is critical. Please review the list of KU Digital Signage Best Practices for more details. 
The system requires that each image must be precisely 900 x 675 pixels. Acceptable file formats are: Windows Bitmaps (BMP), JPEG (JPG), TIFF (TIF), GIF, PNG, EMF, and ICO.
Please note: If the submission does not meet these requirements, it will not be posted. It will be sent back for revisions and posted when corrected. Each graphic will be reviewed for proper spelling and grammar. If errors are found, the graphic will not be posted, it will be sent back for revisions and posted when corrected. 
Please contact Cody Howard (codyh@ku.edu), 785-864-2936, with any questions.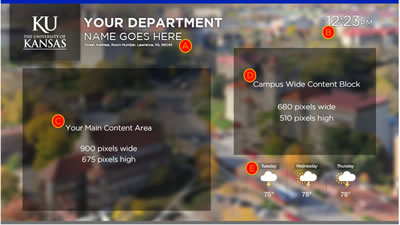 Need help getting started? View some Best Practices.