Diversity, Equity, Inclusion & Belonging
 IHAWKe Diversity & Women's Programs
The University of Kansas School of Engineering is committed to serving our state, nation, and the world by increasing the number of diverse engineers, including women and underrepresented minorities, that can address and create solutions for the complex, multicultural, multidisciplinary challenges that exist in today's global society. The Diversity and Women's Programs department is home to the IHAWKe and KUEST programs. IHAWKe is an academic support program for college students that is designed to help students connect with others, change the world, and conquer their classes. The KUEST (KU Engineering, Science, and Technology) program is geared toward engaging underrepresented minority and female middle and high school level students with engineering, including students from low-income and first generation families.
The One Jayhawk Scholarship celebrates students active in IHAWKe and provides support to ease the financial burden so many underrepresented students feel.
"We're all still one Jayhawk. We're part of the same family, so to speak," said Andrew Williams, Associate Dean for Diversity, Equity, Inclusion & Belonging, in April 2021. "This scholarship represents that — just our beliefs and efforts to move toward equality for students that are disadvantaged or underrepresented in engineering, and that includes underrepresented minorities."
American Society for Engineering Education (ASEE) National Diversity Award
Engineering Diversity & Women's Programs earned national acclaim in 2019 for its efforts to attract and retain an increasingly diverse student population. The American Society for Engineering Education named KU one of 29 institutions across the country to receive an 'exemplar' bronze rating—the highest available classification during the review period—as one of the "nation's leaders in inclusive excellence." Schools were chosen for bronze status based on their ability to "make significant, measurable progress in increasing the diversity, inclusion and degree attainment outcomes of their programs," according to ASEE.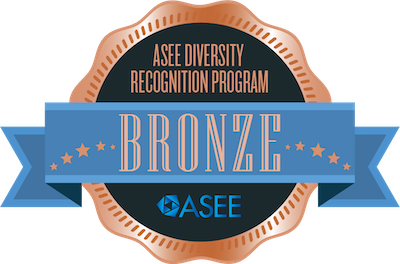 An accessible version of the content below will be made available upon request. Please contact kuengr@ku.edu to request the content be made available in an accessible format.
American Society for Engineering Education (ASEE) Diversity Pledge
KU Engineering stands alongside leading national engineering schools that have signed the ASEE's Diversity Pledge (PDF), affirming this need and our commitment to a "notable increase in diversity in enrollments, retention and graduation rates of engineering students, and increased diversity in our faculty and in the engineering workforce" over the next decade. We have already taken actions and made strides to fulfill this promise by increasing women engineering faculty and women engineering students. We have also submitted a Diversity Plan (PDF) for ASEE's Deans Diversity Initiative to articulate our vision of diversity and inclusiveness moving forward.
Graduate Engineering Minority (GEM) Consortium
GEM is a group of leading corporations, laboratories, universities, and research institutions that enables qualified students from underrepresented communities to pursue graduate education in applied science and engineering. GEM provides a large network, financial support, and expert knowledge to help ensure student success in competitive academic and professional environments.
Meet our 2019-2020 GEM Fellows.
Contact Us
If you have any questions about IHAWKe, KUEST, or Diversity & Women's Programs in general, please contact us at ihawke@ku.edu
We are also on twitter at @ihawke1971