Achal Patel
---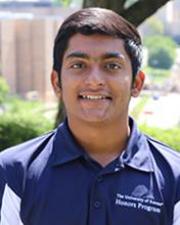 Biography
—
What should prospective students ask you about? I.e. what types of things are you involved in on campus/in engineering? (housing? research? Greek life? marching band? etc.)
Ask me about: resources at KU and within the School of Engineering, the Daisy Hill residence halls, adjusting to college, Honors Community Advocates, being an international student, Student Endowment Board, Student Alumni Leadership Board, community service, Student Senate, networking, and Elon Musk.
What do you love most about being an engineering student at KU?
Shear number of opportunities and possibilities of being Jayhawk!