Professor Arvin Agah, Ph.D.
---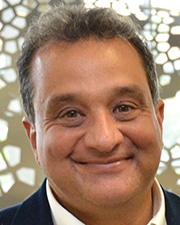 Professor
Dean, School of Engineering
Dean
***KU Safe Zone Member
Electrical Engineering & Computer Science
Contact Info
University of Kansas
1520 West 15th Street
Lawrence, KS 66045-7621
---
Biography
—
Dean Agah joined the university in 1997 and is a Professor of Electrical Engineering and Computer Science. He also served as Associate Dean for Research and Graduate Programs from 2012 to 2018. 
Dean Agah has been a co-investigator on projects that represent more than $33 million in research funding. His research interests include applied artificial intelligence and robotics. He has received multiple honors for his teaching excellence, including two university-wide awards. He has edited three books and published over 180 refereed articles. He has supervised 20 Ph.D. students, 40 M.S. students and 44 undergraduate research students. He has been a researcher at the Bio-Robotics Division of Mechanical Engineering Laboratory in Tsukuba, Japan; IBM Los Angeles Scientific Center; and Xerox Research Center in Rochester, New York and El Segundo, California.
Dean Agah has taught short courses at the Department of Mechanical Engineering at University of Canterbury in Christchurch, New Zealand; Center of Excellence in Remote Sensing Education and Research at Elizabeth City State University in North Carolina; and Department of Engineering Systems at the University of Tsukuba in Japan. He received his B.A. in Computer Science with Highest Honors from the University of Texas at Austin, an M.S. in Computer Science from Purdue University, an M.S. in Biomedical Engineering and Ph.D. in Computer Science from the University of Southern California.
Research
—
Applied Artificial Intelligence and Autonomous Mobile Robots.