Sandhya Ravikumar
---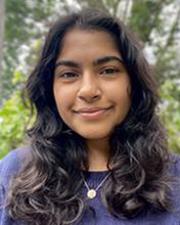 Biography
—
What should prospective students ask you about? I.e. what types of things are you involved in on campus/in engineering? (housing? research? Greek life? marching band? etc.)
Internships/Co-ops, research, on- and off-campus jobs, scholarship halls, interdisciplinary/dual majors/minors, Honors Program, SELF, study abroad, campus/local politics, environmental/outdoor activity clubs, student journalism.
What do you love most about being an engineering student at KU?
KU Engineering has amazing interdisciplinary options that allow me to tailor my major to my specific interests. My advisors and professors encourage me to explore and pursue unique academic and extracurricular opportunities, while also providing me just enough guidance and structure to make my academic plan easy to navigate. Plus, KU Engineering grants me access to great academic, social, professional, and financial resources that have helped me make the most of my time at KU and become a well-rounded, experienced engineer.
Education
—
Engineering Physics - Aerospace Systems