Branicky to Step Down as Dean, Join KU EECS Faculty
---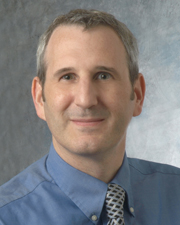 After leading the University of Kansas School of Engineering since 2013, Engineering Dean Michael Branicky will step down at the end of his five-year term, effective June 30, 2018. He will remain at KU as a professor in the Department of Electrical Engineering & Computer Science and willresume his research in robotics, cyber-physical systems, artificial intelligence, and big data and teaching in computer science. During Branicky's tenure as Dean, KU Engineering set records in enrollment and degrees awarded, increased the size of its world-class faculty, dramatically expanded the engineering complex, elevated diversity, equity & inclusion, launched innovative new programs and went far above in philanthropic attainment.
Some specific achievements include:
Improved Student Success. Since Fall 2014, KU Engineering achieved record undergraduate student enrollments and awarded record numbers of undergraduate degrees. The School has already surpassed the goals for 2020-2021 outlined by the State of Kansas in the University Engineering Initiative Act.
Grew Faculty and Sustained Excellence. As the KU Engineering student population dramatically increased, the School added a net of 30 new tenured/tenure-track faculty since 2013 and added professors of practice. This represents more than 30% growth and nearly half of the School's current faculty being hired in that time.
Celebrated and Elevated Diversity. In 2016, KU Engineering celebrated a 45-year legacy of Diversity & Women's programs. The School honored beloved staff member Florence Boldridge, who retired after 34 years of steadfast leadership and student support. One of the university's first online fundraising efforts through the LaunchKU campaign raised $100,000 to support scholarships for KU Engineering Diversity & Women's programs. KU Engineering elevated diversity, equity & inclusion (DEI) to a top-level goal for the School of Engineering by creating a new Associate Dean for DEI. After a national search, the School filled that position with Professor Andrew Williams. He has helped re-imagine Diversity & Women's programs. This includes a sweeping rebranding campaign, known as IHAWKe – which stands for Indigenous, Hispanic, African-American, Women, KU engineers. Students also have access to new competitions and networking opportunities. KU Engineering also has the highest percentage of women engineering students and the highest percentage of women earning degrees in Kansas.
As part of KU's Far Above campaign, the School attained $146 million—far surpassing the original goal of $100 million, with over 200 major gifts ($25,000 or more), and more than 130 new scholarships and funds created. The support and dedication from our alumni has been instrumental in helping the School with these achievements.
Associate Dean for Research and Graduate Programs, Arvin Agah will serve as interim dean for the upcoming academic year, starting July 1. He brings a wide variety of experience as a KU faculty member of more than 20 years, as a researcher and mentor, as an award-winning teacher, and as a seasoned administrator. These factors and others put him in a strong place to lead the school in the coming year.