KU's Earth, Energy Environment Center Now Open; Houses Labs for Petroleum Engineering
---
What is the first thing you notice about the new Earth, Energy & Environment Center at the University of Kansas? It's really connected.
This is literally true: EEEC's two buildings, Ritchie Hall and Slawson Hall, are linked to each other via an enclosed walkway and a tunnel. They also are joined to Lindley Hall and Learned Hall via sky bridges, allowing for easier movement and collaboration for students and faculty among all of the buildings. The facility includes space for faculty and research labs for petroleum engineering and geology, and an outreach, conference and training center.
"The EEEC serves as a figurative and literal bridge that will lead to greater interdisciplinary collaboration, revolutionary research and enhanced student learning," said Michael Branicky, Dean of KU Engineering. "Stronger ties between KU Engineering and the College of Liberal Arts & Sciences will benefit our students, our research, the energy industry sector as well as the state, regional and national economy."
After nearly two years of construction, the EEEC is about to become reality.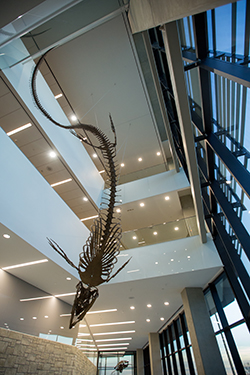 This 141,000-square-foot project, built at a cost of $78.5 million along Naismith Drive between 15th Street and Crescent Road, is slated to open in Spring 2018. On a pathway to the "Central District" building project at KU, the EEEC will help place the university in the vanguard of interdisciplinary research and education.
"I think this building gives us a really good opportunity to do a lot of integrated, groundbreaking work amongst many departments," said Shahin Negahban, director of KU's Tertiary Oil Recovery Program, which will be located in the new complex.
The area around Learned, Ritchie, Slawson, and Lindley now feels more like a neighborhood," added Robert Goldstein, Provost's Special Advisor on Campus Development. "We now are all connected in the Sciences and Engineering."
THE LAYOUT
Ritchie Hall, EEEC's north tower, is named after KU alumni Scott and Carol Ritchie of Wichita, who donated $10 million to the project. The building features a 162-seat auditorium that includes round tables embedded with built-in technology, designed to facilitate in-class student collaboration. There are also two 65-seat classrooms, as well as an array of labs, offices and collaborative spaces.
Slawson Hall, the south tower, is named after Donald Slawson, a KU alum and past Kansas Board of Regents chair who died in 2014. His family made a $16 million gift for the project. The hall features the Robert M. Beren Petroleum Center — named for the founder of Berexco Inc., an oil and gas exploration firm — a 232-seat auditorium to be used for lectures, training, outreach to partners, and for small conferences. 1972 KU petroleum engineering graduate Allyn Risley provided significant personal support and leadership in fundraising for this facility, raising more than $1 million.
EEEC will be occupied by geology and petroleum engineering labs and classrooms currently spread across multiple campus buildings. Geology faculty will be joined by chemical and petroleum engineering faculty, representatives from the Kansas Geological Survey, the Tertiary Oil Recovery Program and KU Innovation and Collaboration. Officials expect the presence of diverse disciplines will spark innovation.
"The idea is that we put faculty and students side-by-side who could be interacting with one another," Goldstein said. "We put up as few walls as possible — we make the labs as open as we can — and we generate collaboration zones."
The collaboration, Negahban said, could produce "ideas that we could not accomplish if we just sit there as petroleum and geoscience standalone programs. That's what makes me really excited," he said.
Negahban said that in addition to letting engineers and geologists cross-pollinate their ideas, the new complex should serve as a KU showcase to host oil industry partnerswho collaborate in research, as well as international conferences that bring in experts from all over the world.
"We have the facilities to do that now," he said. "We can bring people in from all over the world."
Negahban believes the new complex could help thrust KU — and Kansas — to the forefront of efforts to discover and use the world's remaining hydrocarbon resources and make energy extraction projects more environmentally sustainable. That could produce broad benefits for the state and beyond.
"It would be really nice if Kansas becomes the heart of testing these energy related hypotheses," Negahban said of TORP's research at EEEC. "I think it's in line with what our vision is, how to grow some of these new industries in Kansas — when you talk innovative ideas for industry, that means high-paying jobs."
THE CENTRAL DISTRICT
In addition to EEEC, building on campus includes the "Central District" project and its Integrated Science Building, due to open in late 2018, which will host work in chemistry, medicinal chemistry, physics, and molecular biosciences. It will contain core labs that serve the sciences and engineering.
Add to that new apartment-style housing and a new residence hall built on the south side of the main campus, plus a new student union, new parking garage and utility plant and you get what former Chancellor Bernadette Gray-Little said "is the largest and most complex development project KU has undertaken in nearly a century.
The EEEC complex was built on a part of campus that previously served as a cut-through for students hiking from one class in one building to another class a few blocks over. To preserve that movement, the facility also features the "Jayhawk Trail," an open courtyard that will allow the pass-throughs to continue — and, hopefully, draw the curiosity of students who want to know more about what's going on inside the buildings.
"One of the things we wanted to do in the central part of the KU campus was to make our campus more accessible to the rest of the world," Goldstein said. "We think the new EEEC facilities add beauty to our campus, and EEEC and central district together serve as magnets for attracting outside partners to our campus."