Craig L. Martin
---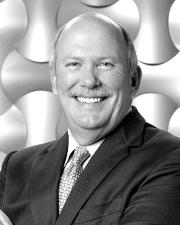 Biography
—
Retired CEO, Jacobs Engineering Group Inc.
With a remarkable commitment to workplace safety and strict adherence to the highest ethical standards, Craig Martin has earned a reputation as one of the most dynamic and successful company leaders in the engineering industry. Martin retired as CEO of Jacobs in 2014 and leaves a lasting legacy of improving the landscape of worker safety throughout the industry.
Martin is known as an exceptionally strong leader who has operated Jacobs with the highest level of intellect, acumen and integrity. Under his guidance, Jacobs was named by Forbes Magazine as one of America's Most Trustworthy Companies and by Fortune Magazine as one of the World's Most Admired Companies.
Martin helped reshape organizational culture and individual behaviors surrounding safety by developing the BeyondZero® campaign. The goal is to extend a "Culture of Caring" beyond the workplace and encourage Jacobs' employee to take safety deeply into their family and friendship circles. The effort led Martin to be named one of the 10 "CEOs Who Get It" by the National Safety Council's Health + Safety Magazine in 2014.
After earning his degree in civil engineering from the University of Kansas in 1971, Martin joined the Martin K. Eby Construction Company in 1972 and rapidly assumed positions of ever increasing responsibility in more than a decade with company. He earned a Master's in Business Administration from the University of Denver in 1981. In 1983, Martin became Executive Vice President and Chief Operating Officer with CRSS Constructors, rising to Senior Vice President of Operations.
In 1994, Jacobs acquired CRSS and Martin moved into the role of President of Jacobs Constructors Inc., then became the head of sales and marketing in 1995. He was named company President in 2002 and became Jacobs CEO in 2006. Under his leadership, Jacobs expanded to more than 250 offices in more than 30 countries. Revenue grew from $4.6 billion to almost $13 billion and the number of employees went from 20,000 to 65,000.
As revenue and employment numbers at Jacobs climbed, Martin ensured the company continued to operate with high ethical standards in every corner of the globe. Martin encouraged a business model based on long-term client relationships that relied on trust. It's proven to be an effective approach that is credited in growing company revenues and developing a more diverse client base in an expanded geographic area.
Martin is a strong advocate for education and frequently lends his insight and expertise to benefit the next generation of engineers. This holds especially true for his alma mater. Martin gave the KU School of Engineering Distinguished Engineering Lecture in 2011 and the J.A. Tiberti Lecture on Ethics in Engineering in 2013. In 2014, he hosted members of the Self Engineering Leadership Fellows at Jacobs' headquarters in Los Angeles for the SELF on the Road experience. Martin has recruited and developed hundreds of talented individuals during his career and has shaped many leaders, including other CEOs in the industry.
Martin resides in Pasadena, Calif., with his wife, Diane.
Education
—
B.S. in Civil Engineering, University of Kansas, 1971
MBA, University of Denver, 1981