Piper Rogers
---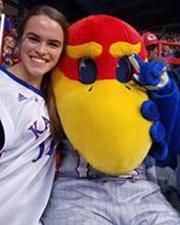 Biography
—
What should prospective students ask you about? I.e. what types of things are you involved in on campus/in engineering? (housing? research? Greek life? marching band? etc.)
"Hello! My name is Piper Rogers and I am a Chemical Engineering student with a focus in Biomed and a minor in Spanish. I am involved in Alpha Delta Pi (social sorority), American Institute of Chemical Engineers(AIChE), SELF Engineering Fellowship, the Honors Program, Rock Climbing Club, and camping for basketball. After graduation, I am looking to work in industry."
What do you love most about being an engineering student at KU?
The choice to come to KU has always been about the people for me. The engineering ambassadors that I talked with my senior year of high school made me feel wanted, included, and important. When I came to KU, I was surrounded by students and faculty of the same manner. The students and faculty of KU are truly the most welcoming, encouraging, and caring people and I am lucky to be surrounded by them!