SELF on the Road 2017 - Day 4
---
Our group's first stop on this beautiful Sunday morning was the Getty Center. The Center is known for its famous artworks, gardens, architecture and hill-top views of Los Angeles. In order to reach the center, our group took a 5-minute tram ride up the hill.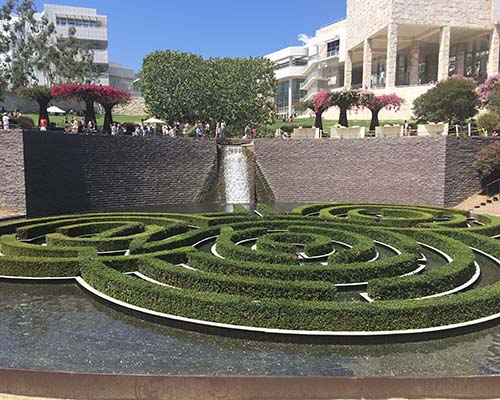 Once we departed the tram, we joined the first tour. This tour  was an overview of the center's major works, mainly consisting of pre-20th-century paintings and sculptures. The works featured on this tour consisted of art by Van Gogh, Monet and other notorious artists. Our tour guide had 15+ years under her belt, which enriched the experience for the group. She was vivacious and knowledgeable about the history behind the major works. She would call attention to the features that might not have been seen with an initial glance. For example, there was a sculpture of a Pope that exhibited different emotions depending the side of observation. After the tour, we explored the gardens and viewed the Los Angeles skyline.
After the Getty Center, Dr. Wiles took half of the cohort to Matador Beach in Malibu, while the other half stayed at the Getty. Katie and Teller went for a swim in the ocean, while the others stayed on shore soaking up the sun rays. Matador was unique in the fact that it had a large display of sea caves and enormous rocks on the beach. Our group enjoyed a few hours in Malibu, then headed back to the hotel.