Grant Jones
---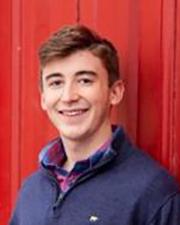 Biography
—
I am involved in: 
Association for Computing Machinery, Learning Machine Learning Co-Vice President, Engineers without Borders, Honors Community Advocates, Undergraduate Research Assistant in the Jayhawk Athletic Performance Lab
Ask me about...
My involved in a variety of engineering clubs, undergraduate research, and in the Kansas Athletics Communications Office as an intern. 
What do you love most about being an engineering student at KU?
The ability to get involved with research as a freshmen.
Why did you choose KU? 
I chose KU and the School of Engineering for an array of reasons. First off, KU Engineering has a great student to faculty ratio, especially for being a Tier I engineering college and has a great reputation for producing well-rounded engineers in Kansas City and across the country. Moreover, KU offered a surplus in undergraduate research opportunities that I have already begun to take advantage of. Furthermore, I received a great opportunity to be a part of the SELF program and the Honors program, which are helping me become an engineering leader of the future. Coming to KU also gave me the chance to continue working with the KU Athletics Communications Office as an intern, so I can pursue my passion for sports. Lastly, I was born and raised a Jayhawk as both my parents graduated from KU. As a result, we went to countless games throughout my childhood.  Being able to share my passion for KU as it relates to the Engineering School, the basketball program or the university as a whole is something that comes naturally to me.
Education
—
Interdisciplinary Computing - Biology