Joseph Nordling
---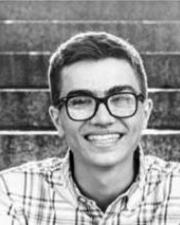 Biography
—
I am involved in: 
SELF Program, Bowling, Learning Machine Learning Vice President, Undergraduate Research
I have interned with Adminutemen, Adepto Medical, NEER.AI
Ask me about...
My involvement and interns held listed above. 
What do you love most about being an engineering student at KU?
Being able to work on projects that will actually impact the world.
Why did you choose KU? 
I chose KU because of the SELF Fellowship Program.